An Arizona Bathroom Contractor You Can Trust
Beautiful and Functional Bathroom Remodeling at an Affordable Price
Get a bathroom remodel you can enjoy every day and be proud to show your friends and family!

Expert Design and Customization
Our team of talented designers will work closely with you to understand your desires and design preferences. Whether you envision a sleek and contemporary bathroom, a timeless and elegant space, or a spa-like retreat, we will create a custom design plan that perfectly captures your vision. With careful attention to detail, we will optimize the layout, select premium fixtures, and recommend the finest materials to bring your dream bathroom to life. Additionally, we can complete a full bathroom remodel or a partial one, and we specialize in guest and master bathroom remodeling.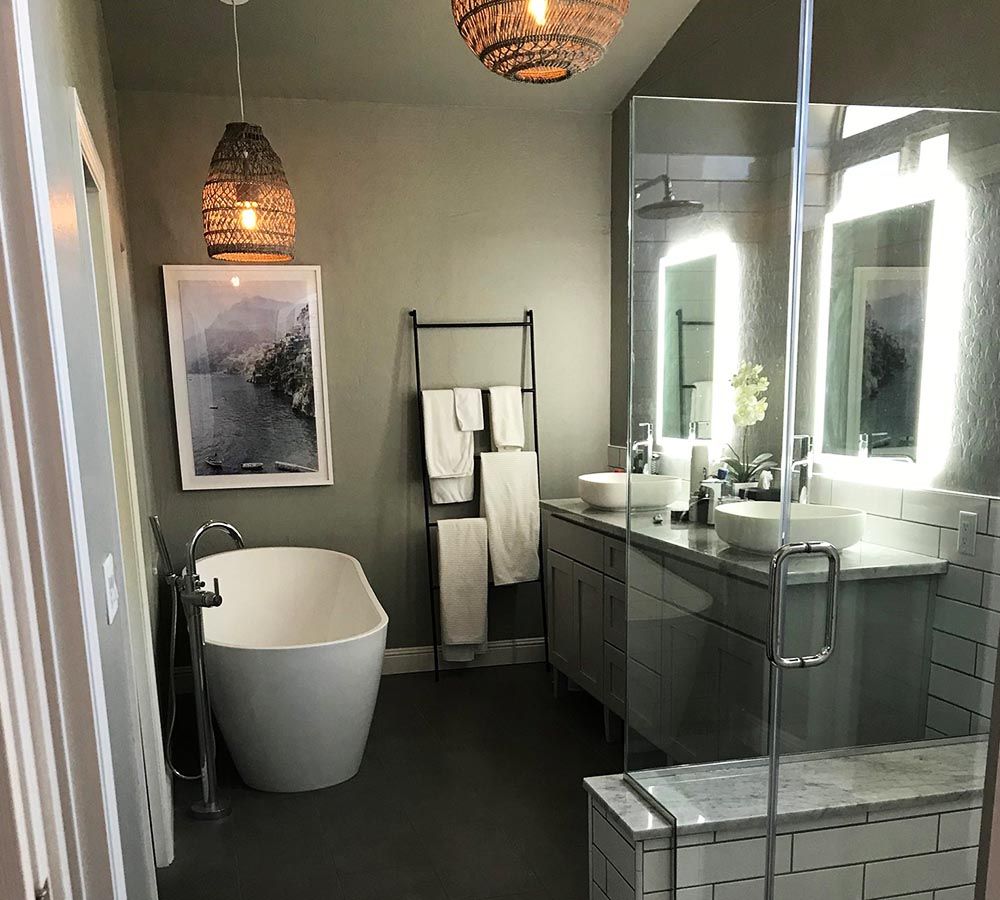 Bathroom Remodel in Phoenix AZ
Tired of cleaning the bathroom that never really comes clean and stays clean? Want to remodel your bathroom without spending a small fortune and having it drag on endlessly? It's not too much to ask for, a clean space to get clean and ready for the day. Your bathroom should be a place where you feel comfortable and at peace to start your day off right. You don't have to overspend on a bathroom remodel to get what you want. We offer beautiful, functional, and affordable full bathroom remodeling services to the entire Phoenix valley. Anything from just the shower or tub area to a complete remodel of the bathroom, including moving and building walls. We guarantee you will love your bathroom remodel using the highest grade of building materials combined with decades of experience. We are not a "jack of all trades" type of contractor; we are bathroom remodeling specialists.

Master of our Trade
We are a bathroom remodeling contractor specializing in bathroom remodeling. We are masters at our Trade.

100% dedicated to YOU!
We work consecutive days in a row, M-F, until your project is completed. We won't juggle your project with someone else's.

Friendly, Trusted, and Safe
We don't subcontractor everything out. We will have the same friendly and trusted crew working on your project until completion.

Invest Wisely
We provide the highest quality of workmanship and products while being competitively priced. We won't nickel and dime you with hidden fees or extra surprise costs.

Enjoyable Remodeling Experience
We do everything we can to make your remodeling experience as enjoyable as possible. We'll make sure all work will be up to your satisfaction and make it right if it's not.

Peace of Mind
We offer lifetime service on our Tub/Shower Surrounds and Plumbing Fixtures provided by us. We'll help you maintain your beautiful shower for as long as you own your home.
So, what does it cost?
Some contractors will charge you more throughout the project, even after signing contracts. They always run into unexpected problems, then nickel and dime you for every penny they can get. Not at Better Bath Remodeling. When you get signed up with us, we will never charge you more money unexpectedly. Give us a call to find out exactly what it will cost to get your bathroom remodel.

Receive A Free In-Home Consultation

Our Professional Contractors Remodel Your Bathroom

Enjoy Your Beautiful Bathroom Remodel
Don't wait any longer to get the bathroom you've always wanted.
Schedule a FREE In-Home Consultation so our team can get started on completing a beautiful and functional bathroom remodel that you will be proud to have in your home.

About Our Bathroom Remodeling Company
As a family-owned company that has been in the bath remodeling business for nearly 20 years, we understand what our customers want. We prioritize customer satisfaction above all else. From the moment you contact us until the completion of your project, our dedicated team is here to guide you through every step of the remodeling process. We understand the importance of open communication and are committed to delivering on time and within budget, ensuring a stress-free experience from start to finish.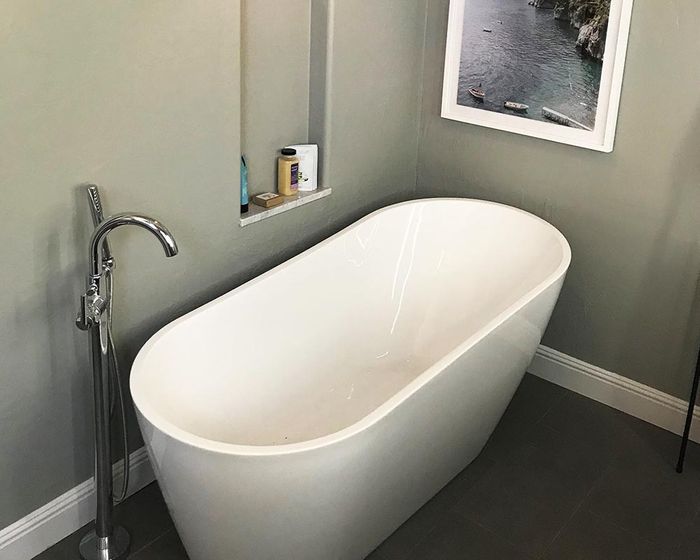 Why Choose Better Bath Remodeling
At Better Bath Remodeling, we take pride in our exceptional craftsmanship and attention to detail. Our skilled team is committed to delivering impeccable results with precision and expertise. From the precise installation of exquisite fixtures to flawless tile work and impeccable finishes, we ensure that every aspect of your bathroom remodel is executed to perfection.
Take the first step towards transforming your bathroom into a personal oasis. Contact Better Bath Remodeling today and let our expertise and passion for excellence bring your dream bathroom to life. Discover the ultimate in luxury and comfort with our unrivaled bathroom remodeling services.
When you select Better Bath Remodeling for your Bathroom Remodel you get...
A beautiful and functional bathroom remodel you will brag about to your friends
Top of line products that last longer and look better
Professional contractors dedicated to your bathroom remodel
A Bathroom Remodel that fits your budget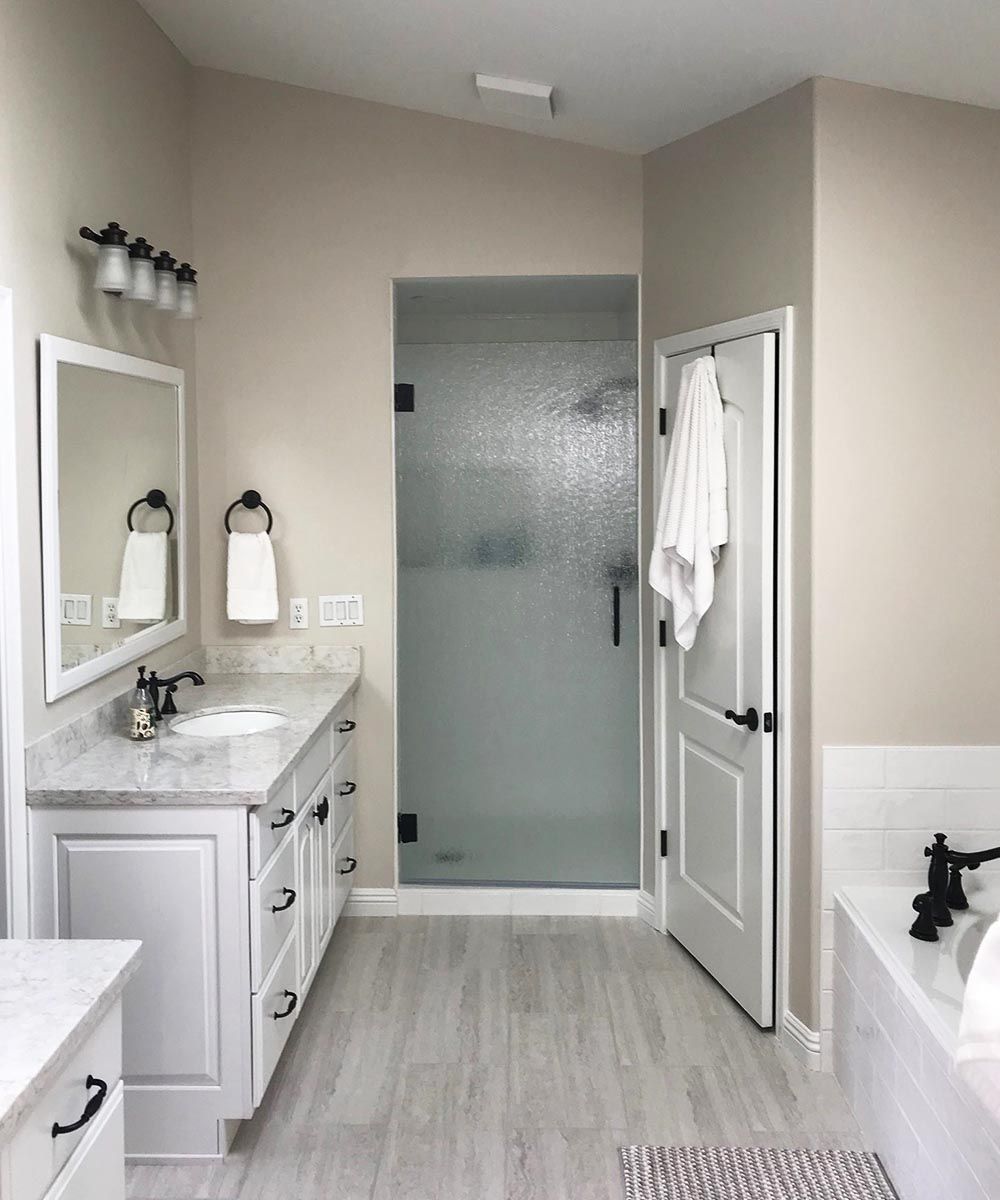 Master Bathroom Remodel
Here at Better Bath Remodeling, our #1 request for the master bathroom remodel is to enlarge the shower.
Are you looking for a more functional large walk-in tile shower? Or maybe you want a beautiful bathtub to soak with a glass of wine after a long day. Or both? We can help; sign up for a Free In-Home Consultation to begin building the relaxing oasis you deserve.
What about remodeling those builder-grade cabinets and countertop with that shower or tub surround? We can help with that too! We only use solid wood, high-end cabinets with dovetail corners, and soft-close feature. We top that by fabricating the natural beauty of granite vanity tops or durable man-made quartz.
We can also install new tile flooring to help pull it all together.
If you're looking to remodel the entire master bathroom or just the shower and tub area, give Better Bath Remodeling a call to see how we can help.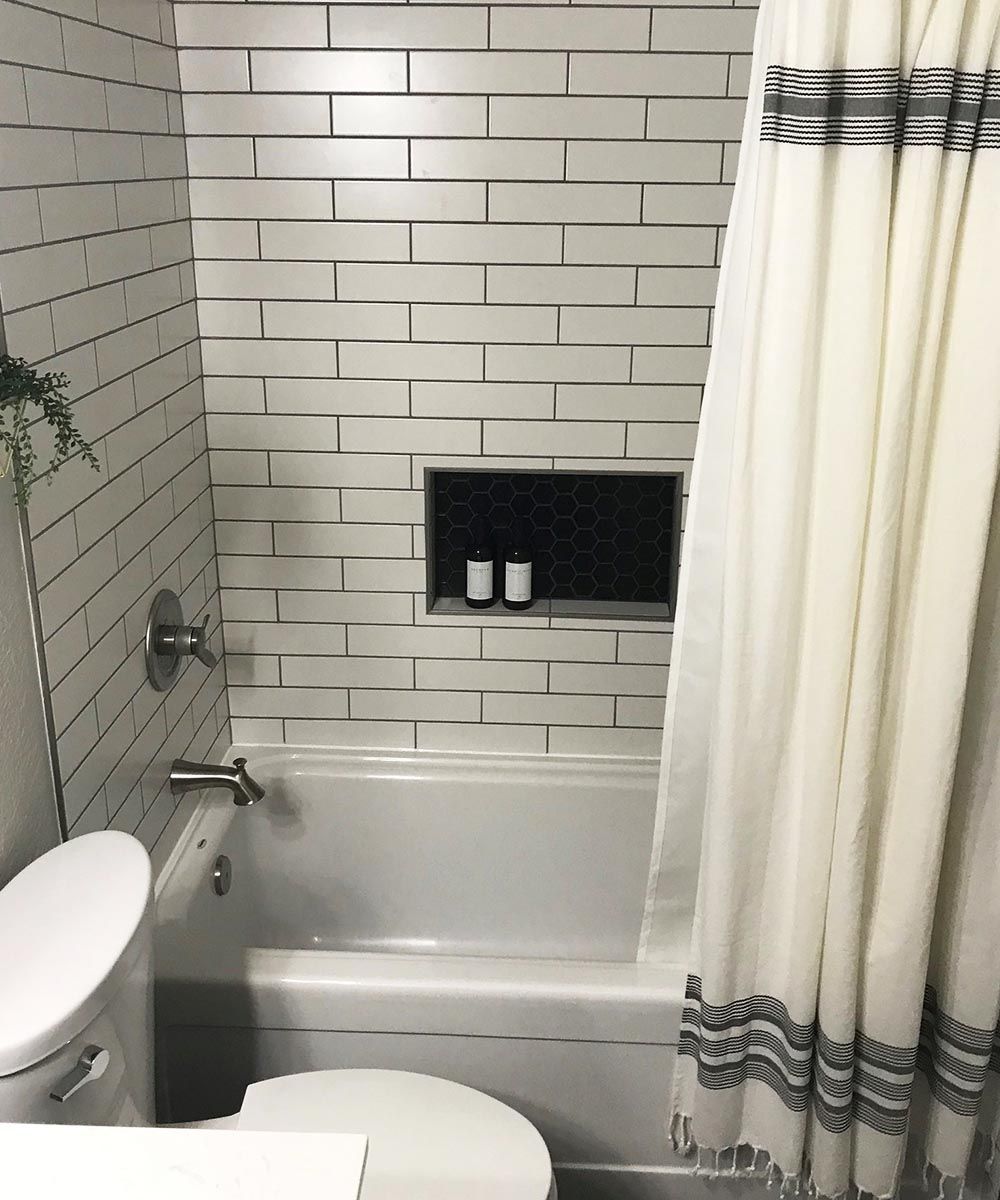 Guest Bathroom Remodel
The Guest Bathroom should be a warm, clean, and comfortable environment. Make it somewhere you feel proud to let your friends and family use it.
Need to remodel that old ugly, embarrassing bathtub with a new shower or bathtub? The guest bathroom is the most intimate place in your home for your guests.
We will work with you and guide you through the entire process until completion. Our goal is to make this experience as enjoyable as possible. After a remodel with us, you will have a bathroom that your friends and family will envy and exceptions that no other contractor will be able to meet. Your friends and family will envy not only your beautiful bathroom remodel while they enjoy it, but they are likely to envy the price you paid too.
Whether you're looking to remodel the entire bathroom, including cabinets and vanity top, tile flooring, or need to remodel the bathtub and shower area, we can help. Schedule a Free In-Home Consultation today.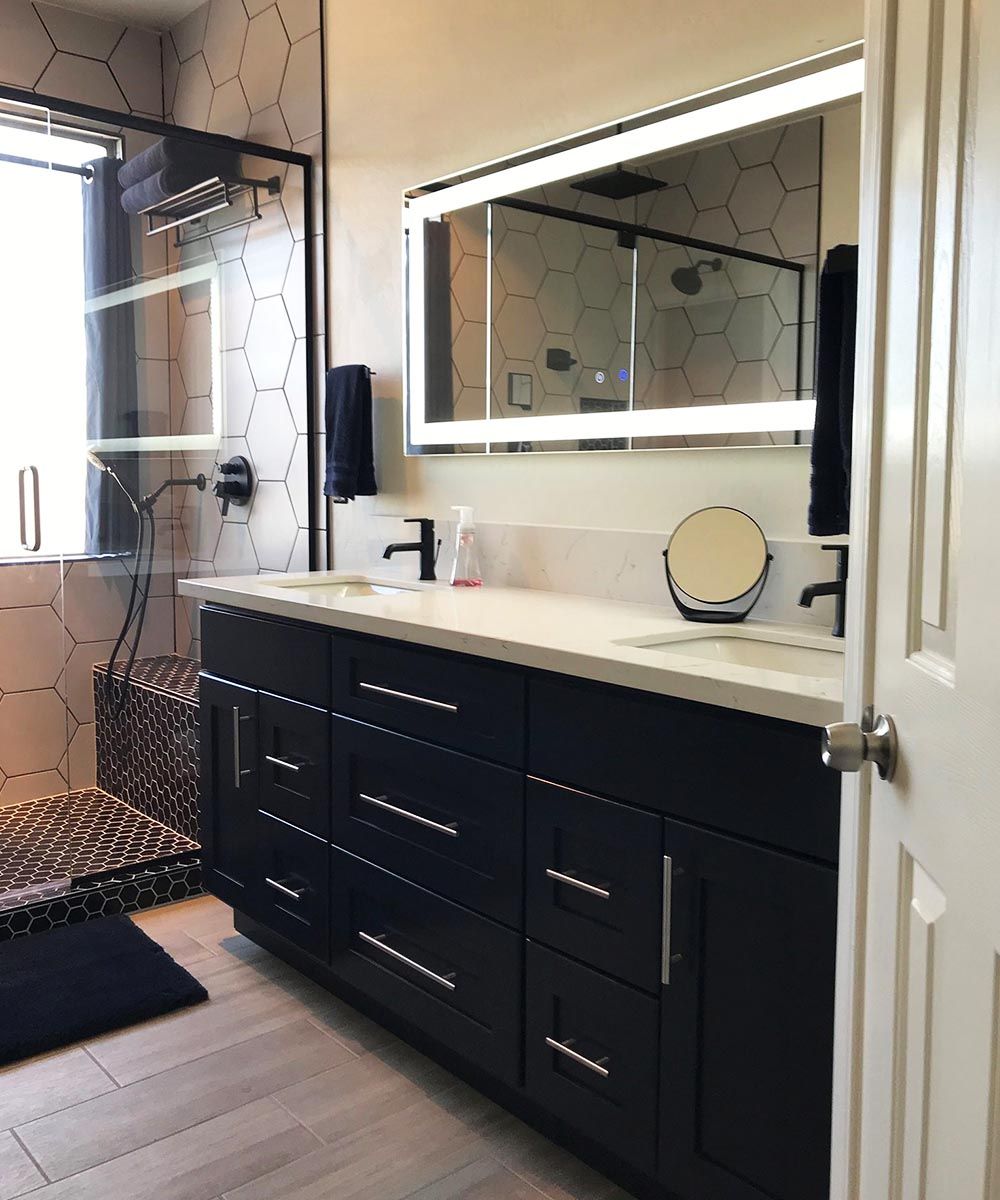 Full Bathroom Remodeling
We remodel showers, bathtubs, cabinets, vanity tops, and install bathroom tile flooring. If it's in a bathroom we can remodel it!
There are a lot of one and two-day remodeling companies here in the valley of Phoenix, AZ. We are not one of them. We will take our time with your project, never sacrificing quality for the sake of speed.
We are one of the few remodelers in the valley who can handle anything and everything in the bathroom. We have the experience and expertise to help you throughout the entire remodel process. With our guidance, you can remodel the whole bathroom at a price that can be affordable. We can provide our high-quality cabinets or provide some of your supplies, such as cabinets, tile, and lighting. We stay flexible from the beginning of the project to the end.
Don't hesitate any longer; schedule a Free In-Home Consultation today!
What our customers are saying

"I had a jetted tub replaced and turned a closet into a tiled shower in the master bath. Michael came and understood what we wanted and gave us a fair price. Martin and Weston did the work and did a great job. They kept us informed each morning on what work was going to happen and discussed the progress with us at the end of each day. They consulted us on the smaller details to enable our vision for the shower to happen. I highly recommend this company."
- Paul K.

"The best compliment that I can give to Better Bath Remodeling is this: When we have our master bath remodeled, I am calling them....no competitive bids....no other contractors need apply! They have the job.....period. We had two of our bathrooms remodeled this go around. Michael and Martin were both so professional, communicative, and showed up on time EVERYTIME. I knew every step of the way what was happening and when the expected date of completion was. Any questions I had were answered immediately and fully. When we were wavering on what we wanted, they went to the effort of showing us what the results would be for each of the tile ideas that we had so we could see the result in front of us. We have had a lot of work done around the house over the last year and Better Bath is by far one of the best contracts we have dealt with! Thank you Michael and Martin for your fantastic work!"
- Tammy G.

"Better Bath Remodeling did an awesome job on our bathroom! It was a complete remodel of the master bathroom. They took a bathroom from the 1970's and made it into a spa! We love everything about our new bathroom! Michael and Ephraim are great to work with. Michael has great ideas on the design and led the project every step of the way. Ephraim was there every day on time, worked hard all day and cleaned up after every day. His tile laying skills are amazing. They were very professional and the craftsmanship was excellent and they were always communicating with us on the project. Michael took the whole project and made it amazing. We would recommend them without hesitation for anyone wanting a bathroom remodel."
- Joan F.
Ready to get started? Schedule A FREE Consultation Today!
Schedule an In-Home Consultation to learn more about what we have to offer.
Serving West Valley out of Phoenix, AZ
Including Scottsdale, AZ – Glendale, AZ – Peoria, AZ – Avondale, AZ
Serving East Valley out of Gilbert, AZ
Including Mesa, AZ – Chandler, AZ – Tempe, AZ – Queen Creek, AZ – Ahwatukee, AZ